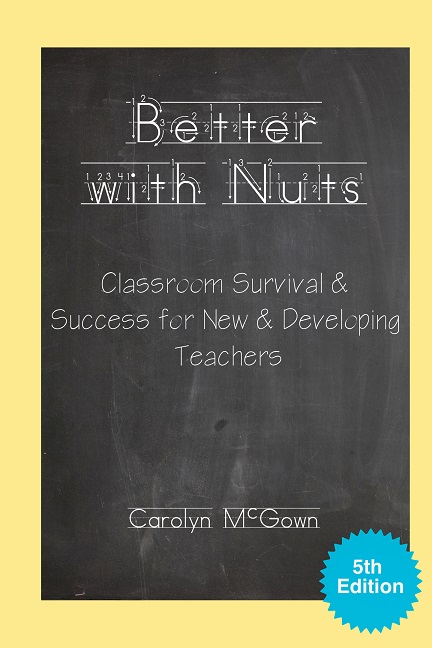 Read an excerpt (Interviewing for a teaching position)
How I Came To Know This Book
A new colleague in my department at Hunter College recommended Carolyn McGown to be our student teaching and practicum supervisor for special education graduate students.  I knew that I had not yet met this woman, but still, the name rang a bell.  I couldn't figure out why her name was so familiar until a couple of months later.
After meeting her, and hearing wonderful reviews of her seminar class and field supervision of our teacher candidates, I came to know why her name was kept all this time up in the recesses of my cranial cavity.  One day, while advising one of my grad students, I saw a book that he was carrying.  I instantly recognized the cover.  Years before I had browsed through it, and thought "This is a great book!" (my student confirmed this impression)  Unfortunately, I had let the ordering of Ms. McGown's book slip my mind.
I asked Carolyn (McGown) for a copy to review.  Again, I was struck by the vast storehouse of detailed information on how to accomplish every imaginable aspect of proficient performance in a teaching position. It now serves as the textbook for two of our graduate  classes (Classroom Behavior Management and Student teaching/Practicum).
Now we have the 5th edition! It's updated with lots of new information that will raise your skills to the next level.
Read an excerpt (Questions to ask of more experienced colleagues before the first day of school)
Read an excerpt (Pencils & Pens)
Read an excerpt (Setting up Routines)
What Makes this Book Different from the Other New (& developing) Teacher Books?
Professor McGown's text contains everything that they never taught us in our teacher training programs.  Even if we are trained well, there is the day-to-day minutia and routine tasks that are actually quite important to our success as educators.  Somehow, those topics don't make it into the college curriculum.
I've read the other books for new teachers… The excellent texts by Wong & Wong, Canter & Associates, Kelly, Rominger, Thompson, Williamson, etc.  They provide the templates for success as a new or developing teacher.  It is Carolyn McGown's book, however, that 'fills in the blanks' and 'connects the dots'…offering specific 'what to do' and 'how to do it' details, real life day-to-day examples, and down-to-earth practicality.
Read an excerpt (Classroom Behavior Management)
Summation
This book is an incredible resource and must-read for future, new, developing, and/or struggling teachers.  It provides specific guidance in handling everyday mundane tasks in addition to addressing the major duties to which we must attend.
When I recommend this book, I do so with two heads: (1) That of the experienced professional who wishes he had a copy of this book in his early years of teaching, and (2) Someone who wants all kids to have informed, knowledgeable, and skilled teachers.
This book is a gem.  Out of a possible 4 stars, I give it 5 of those stellar twinklers.  Between the covers of this text is the vast knowledge base of a highly skilled veteran trainer of teachers. This information needs to reach a wider educator audience.  BehaviorAdvisor.com is fortunate to be the sole distributor of her self-published book.
Dr. Mac
Price: $29.99 (It would be a bargain at twice this price)

Shipping: $5 inside the continental U.S.        $20 elsewhere (blame the postal service)

Format: Plastic coil binding, 6 in. (15 cm) wide by 9 in. (23 cm) tall, 243 pages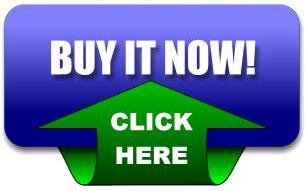 This button is for residents of the USA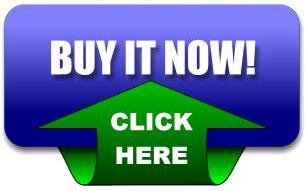 This button is for residents of other countries
Back Cover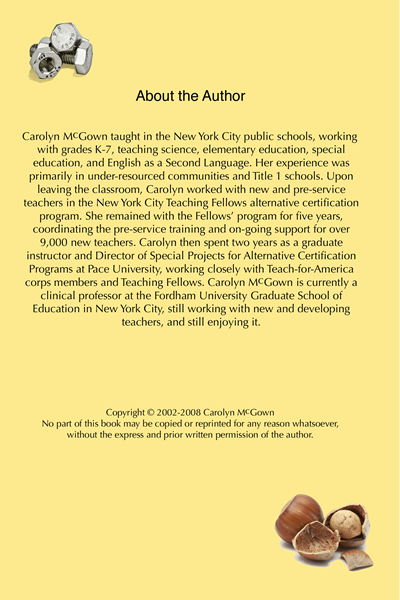 This button is for residents of the USA.
This button is for residents of other countries.